DIRECTIONS
1. It is important to place the rock in an area in your garden so that the drip lines are flat to downward sloping. The flow of water uses gravity and water pressure in the container to push it through the lines.
2. Thread the threaded end of the barb into the connection located at the bottom of the back of the rock. It is best to use pliers or a small wrench to gently thread the barb into the rock past the threads. By threading all the way the barb is much stronger. Attach the drip line to the unthreaded end of the barb and run in the direction you choose. Use cuttings from the provided 15 feet of tubing and T barbs for branches to the plants. If you need more line it is available at most garden centers.
3. Attach adjustable drippers to the end of branch lines. Place drippers near the plant. We also suggest making a small hole near the plant for the water to drip into for deeper water penetration.
4. Use 1/4″ tubing stakes to hold tubing in place.
5. To run the line in two directions, use a 1/4″ T connector to branch off into two separate directions. See Diagram.
6.  Remove vented plug and fill rock from the hole in the top of the rock.
7. Adjust drippers to desired flow. When first filling the rock give the water a few minutes to reach the drippers. When first filling it may be necessary to unscrew the end dripper all the way to purge lines of air.
8. Drain rock and blow out drip line or make sure they are drained for the winter.
9. For further directions or questions see our website at www.watering-rocks.com
Plastic Rocks: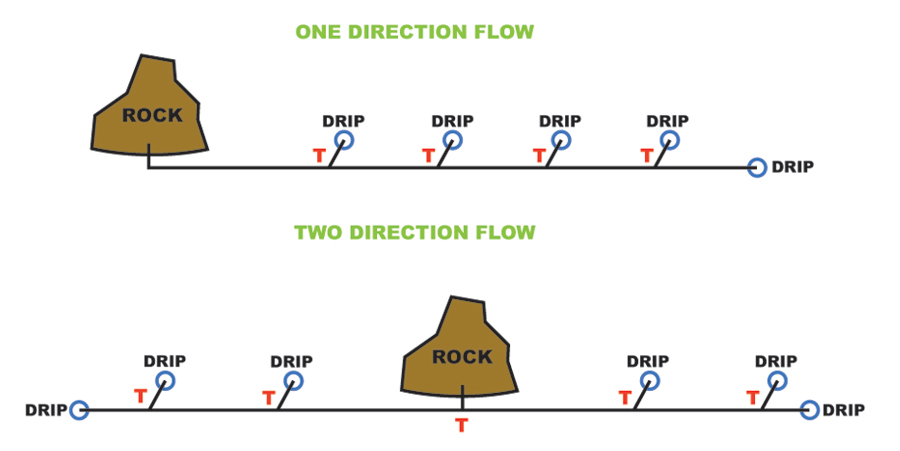 Concrete Rocks:
Please feel free to contact us below with any questions you may have about our Watering Rocks products.